Legazy App on Firestick | Download & Installation Guide!
Are you looking to spice up your Firestick streaming experience with the Legazy app? You're in the right place. As someone who's navigated these waters, I'm here to walk you through the process step-by-step. It's a workaround since Legazy isn't on the Amazon App Store, but trust me, it's worth it.
Prerequisites
Firestick device and remote
WiFi connection
LegaZy app membership/subscription
Preparing Your Firestick
First things first, we need to tweak your Firestick settings. This is like laying the groundwork before building a house. Head to your Firestick's main screen, click 'Settings,' and then select 'My Fire TV.' Here, you'll find the 'Developer Options.' Inside this menu, there's a critical setting called 'Apps from Unknown Sources.' Turn this on. It sounds daunting, but your Firestick can install apps beyond those in the Amazon App Store. It's safe as long as you're careful about the sources of your downloads.
Downloading the Downloader App
Now, to the fun part! We need a tool to fetch our app; the 'Downloader' app is our hero. Return to your Firestick's home screen and use the search function to find 'Downloader.' It's a straightforward, user-friendly app on the Amazon App Store. Click download, and you'll have a powerful tool at your disposal in a few moments. This app is a bridge to accessing a vast array of apps not readily available on the Amazon platform.
Using the Downloader App to Install Legazy
With 'Downloader' ready, open it. You'll see a place to enter a URL. Here, you'll need to type in the direct link for the Legazy APK. Ensure it's a reliable and secure link; your digital safety is paramount! Once you've entered the URL, the app will start downloading. Watching the download bar fill up was oddly satisfying for me. When the download finishes, an installation screen will pop up. Follow the onscreen instructions, and Legazy will be installed on your Firestick.
Setting up Legazy
Now, the moment of truth! Navigate to your apps on the Firestick, and you'll see Legazy smiling back at you. Open it, and there might be a few setup steps. This could include signing in or customizing some settings. The interface was intuitive, making the setup a breeze.
Troubleshooting Common Issues
It wasn't all smooth sailing for me. At one point, my Firestick lost its internet connection. If this happens, don't panic. A simple router reset usually does the trick. Also, a security warning might pop up during installation. If you're using a trusted APK source, you can proceed confidently.
Why should we use the Legazy app?
The Legazy app offers several compelling reasons for its use, especially for users passionate about streaming and accessing diverse content. Here are some key benefits:
Wide Range of Content: Legazy likely offers many streaming options. This might include movies, TV shows, live sports, and other types of entertainment that are not readily available on mainstream streaming platforms. This diversity in content can cater to various tastes and preferences.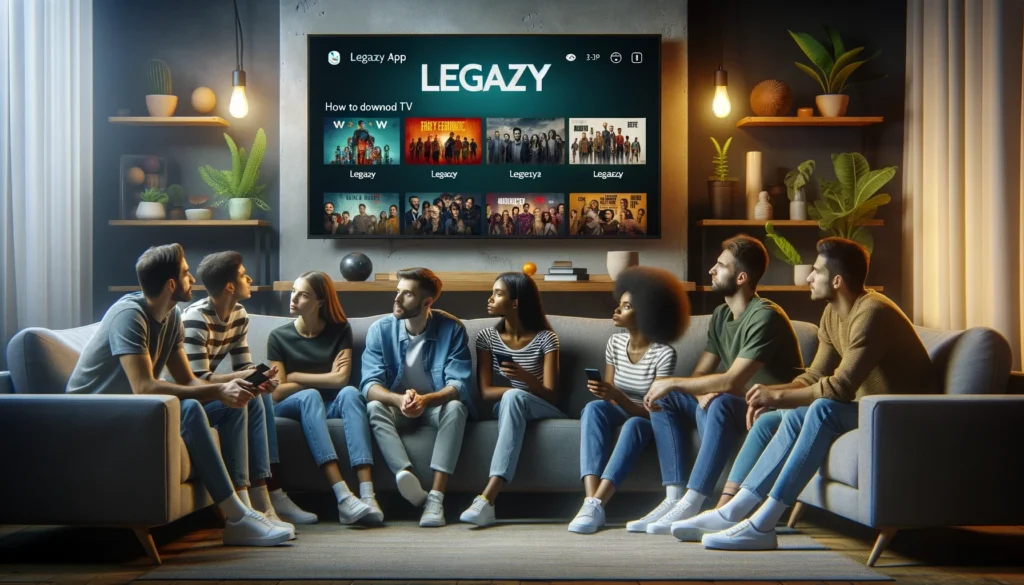 User-Friendly Interface: Apps like Legazy often prioritize user experience, featuring easy-to-navigate interfaces. This makes it simple for users of all ages and tech-savviness levels to find and enjoy their desired content.
Regular Updates: Good streaming apps regularly update their content library, ensuring that users have access to the latest movies, shows, and live events. This continuous refreshment of content keeps the platform exciting and relevant.
Cost-Effective Entertainment: Legazy may offer a more cost-effective solution than other streaming services, depending on its monetisation model. It might provide free content or a more affordable subscription model, making it an attractive option for budget-conscious users.
Customization and Personalization: The app may offer features that allow users to customize their viewing experience, such as creating watchlists, receiving recommendations based on viewing history, and adjusting streaming quality.
Accessibility: By being available on devices like the Firestick, Legazy becomes easily accessible to a wide audience. This convenience is a significant factor for users looking to expand their entertainment options beyond what's available through their TV's native apps.
Community and Support: Some apps foster a community of users, offering forums or platforms for discussion. This can enhance the user experience, allowing for shared insights, recommendations, and troubleshooting tips.
Global Content Access: For those interested in international content, Legazy might offer shows and movies from different countries and in various languages, which is a significant draw for a culturally diverse audience.
Frequently Asked Questions
How do I install the Legazy app on my Firestick?
To install the Legazy app on your Firestick, first enable 'Apps from Unknown Sources' in your Firestick settings under 'My Fire TV' > 'Developer Options.' Then, use the 'Downloader' app available on the Amazon App Store to download and install the Legazy app using its APK URL. Follow the on-screen instructions to complete the installation.
Is the Legazy app free, or does it require a subscription?
The cost of using the Legazy app can vary. Some app versions offer free streaming services, while others require a subscription or have in-app purchases. It's important to check the app's description and user agreement for detailed information on pricing and subscription models.
Can I watch live TV and sports on the Legazy app?
The Legazy app often includes various streaming options, including live TV and sports. The availability of specific channels and events can depend on the app's current offerings and any geographical or licensing restrictions.
Is it safe and legal to use the Legazy app on my Firestick?
The safety and legality of using the Legazy app depend on the content it provides and how it sources this content. While the app can be safe to install, ensure you access legally and ethically distributed content. Always use a reliable and secure source for downloading the app's APK file.